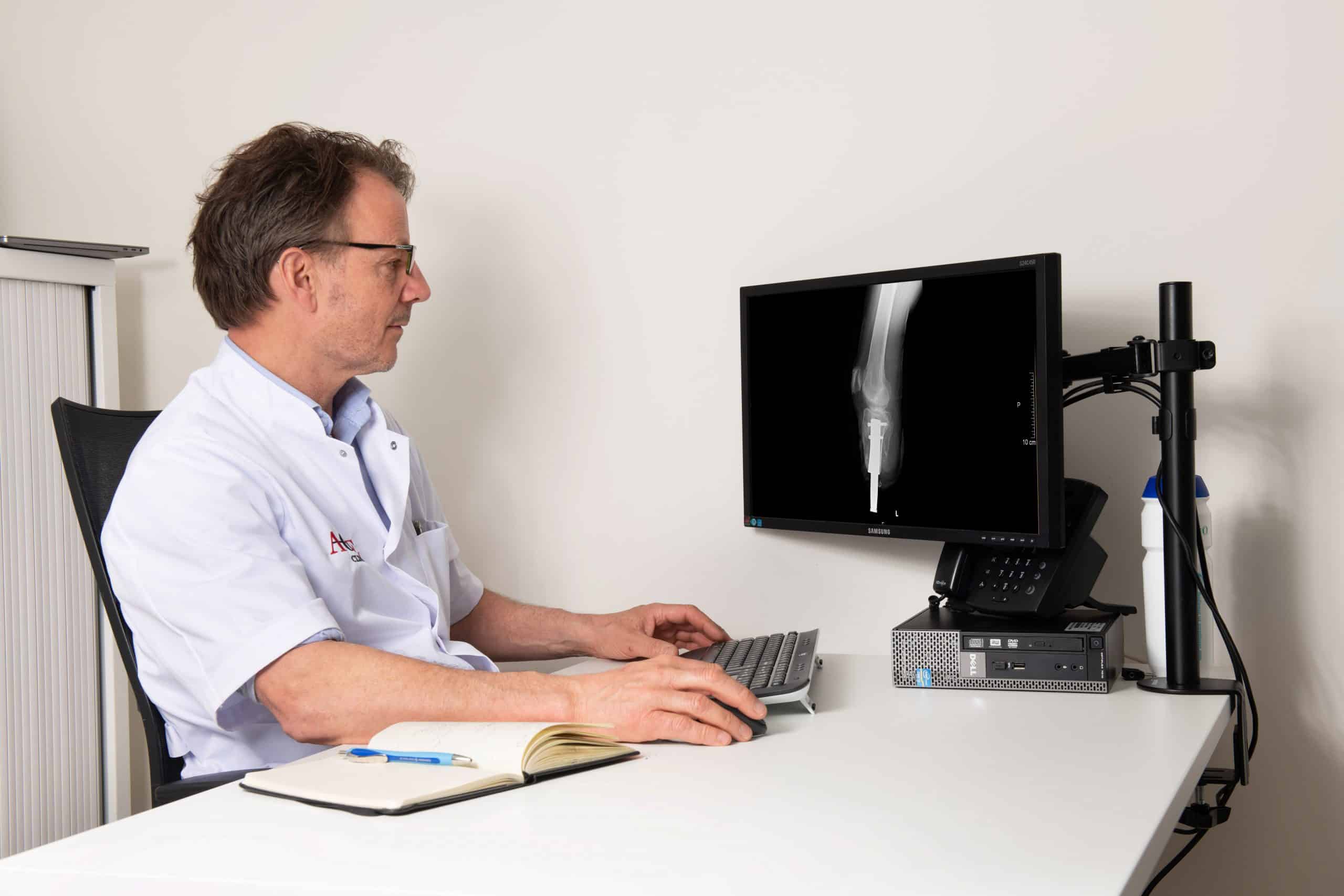 Leg amputation
When the leg is amputated, we refer to it as a lower extremity. A leg amputation can occur due to: vascular disease – tumour – trauma
The leg can be amputated at different levels. After the leg is amputated, one can start rehabilitation after recovery. During this rehabilitation, you learn to walk again with a leg prosthesis. This is an artificial leg where you sit with your upper or lower leg in a plastic socket. For some years now, you have also had a "bone anchored prosthesis" or "osseointegration prosthesis" This prosthesis is anchored in the skeleton by means of an implant and the prosthesis is attached with an adapter and connector. Rehabilitation can last from several weeks to several months.
Foot prosthesis
A prosthetic foot is made when there has been a foot amputation. With a prosthetic foot, you improve the walking pattern and the stump is protected. The prosthetic foot is made of silicone and is often indistinguishable from the real thing.
AOFE's five guarantees
We listen to you and take a personalised approach
Our care meets the strictest quality standards
We always work with experience experts
We work with you to find the best suited solution
You benefit from reduced waiting times with us
Arm amputation
With the amputation of the arm, we speak of an upper extremity. These are several dozen a year and an arm amputation can occur due to, among other things, trauma – vascular problems – cancer
The arm can be amputated at different levels. With amputation, you may suffer from phantom pain. Prosthetics are also available for amputated arms. Both with a plastic socket and also the osseointegration prosthesis.
After the amputation of the arm, one can have an arm prosthesis fitted. With the stump of the arm, one can enter the socket of the arm prosthesis. This prosthesis is custom-made. The prosthesis can be attached with, for example, a band, silicone liner or click system, also called osseointegration. There are arm prostheses that do not have many functions but are mostly cosmetically attractive, but you also have arm prostheses that are computer-controlled.
Finger prosthesis
A finger prosthesis is made of silicone. These look lifelike and fit perfectly. Recently, you can also have osseointegration applied to one or more finger amputations. This allows you to increase the finger length and can restore a grip function to the finger(s). The finger(s) regain functionality when working with a keyboard, for example.