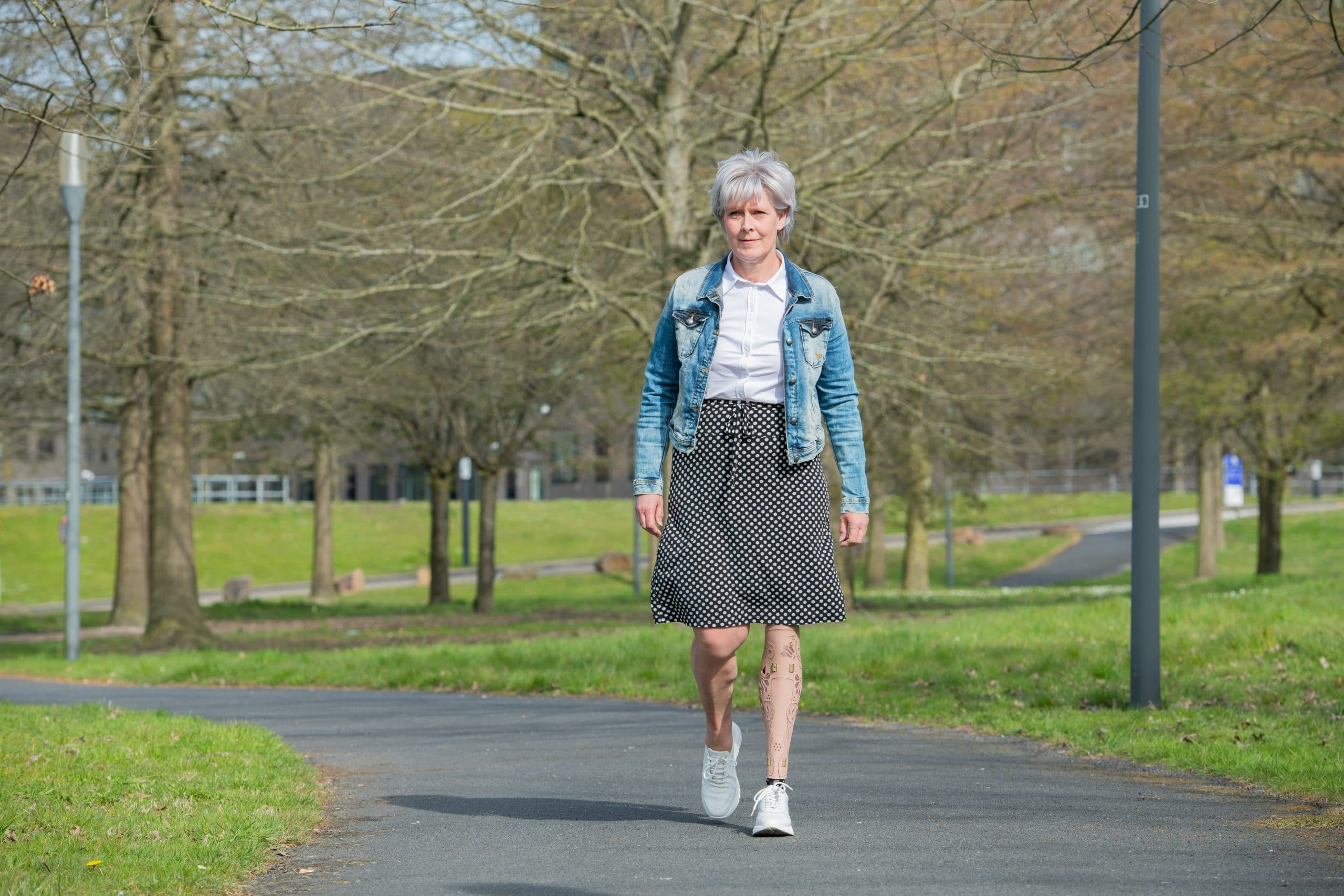 Dicky de Best - our prosthetic expert witness
A prosthetic expert, also known as a prosthetist, is a healthcare professional who specializes in the design, fabrication, fitting, and customization of prosthetic limbs. A patient who has experienced limb loss or limb absence due to various reasons, such as amputation, congenital limb differences, or trauma, needs the best possible help to regain function and mobility.
Dicky de Best has experienced personal limb loss for herself many years ago. She is therefore trained in evaluating the unique needs and goals of each individual patient and developing customized prosthetic solutions to meet those needs. She works closely with patients, rehabilitation professionals and our surgical team to provide comprehensive care and support throughout the prosthetic fitting and adjustment process
Dicky is there for you
Dicky de Best is associated with AOFE Clinics as an experience prosthetic expert / case manager. She is present at the intake clinic to provide you with information on osseointegration prostheses. As an expert witness she also remains available after discharge, for patients who have undergone (osseointegration) surgery, for questions such as:
What activities can I do or am I advised not to do with an osseointegration prosthesis?
How do I care for my stoma
Can I keep the prosthesis on all day?
Can I keep my current prosthesis?
Cosmetics
In addition, she can provide information on:
Admission and stay at AOFE clinics.
How mobile are you after the operation
How to proceed after discharge
Rehabilitation
As a case manager, she is working on:
Proper progress of your treatment
Point of contact if problems arise
Evaluation of care pathway
You can contact her at d.debest@aofeclinics.nl
Leading clinic in osseointegration
At AOFE Clinics, we pride ourselves on being a leading provider of comprehensive services for amputees. Our team of dedicated professionals is committed to enhancing the lives of individuals through specialized therapy, cutting-edge technology, and expert care. With a focus on prosthetics, orthotics, and rehabilitation, we offer a range of services tailored to meet the unique needs of each patient.
As clinical experts we understand that finding the right prosthetic expert is crucial for optimal outcomes. That's why we have assembled a team of highly skilled and experienced professionals who are dedicated to delivering exceptional care. Our prosthetic experts possess a deep understanding of the medical and legal aspects of prosthetics, ensuring that you receive the best possible treatment and support throughout your journey.
We offer a wide range of services to ensure comprehensive care for our patients. Our services include:
Our prosthetic experts will conduct a thorough evaluation and work closely with you to understand your specific needs and goals. They will provide personalized recommendations and guidance throughout the process.
Our team will assist you in selecting the most suitable prosthetic device based on your individual requirements. We offer custom fittings and provide extensive training to ensure optimal functionality and comfort.
We understand the importance of a well-maintained prosthetic device. Our experts are available to address any issues, perform necessary repairs, and provide ongoing support to keep your prosthesis in top condition.
In addition to prosthetics, our clinic offers orthotic services to support various musculoskeletal conditions. Our orthotic experts will work with you to design and fit custom orthotics devices that enhance your mobility and overall well-being.
Call Us Today:
If you are looking for expert prosthetic care and support, look no further than AOFE Clinics. Our team of professionals is ready to assist you in your journey towards regaining mobility and independence. Contact us today to schedule an appointment and take the first step towards a brighter future. You can also always aks for our terms of agreement.